As part of the Made in Toronto exhibition which opened last week, Gabby Resch was recorded speaking about critical making and the critical making lab. Watch the videos here.
Is new technology truly available just because it's technically available? The Critical Making lab is hard at work on creating 3D printed prosthetics for Ugandan amputees but it'll take a cultural, as well as a technological, change to really make the program take flight. Read the story here.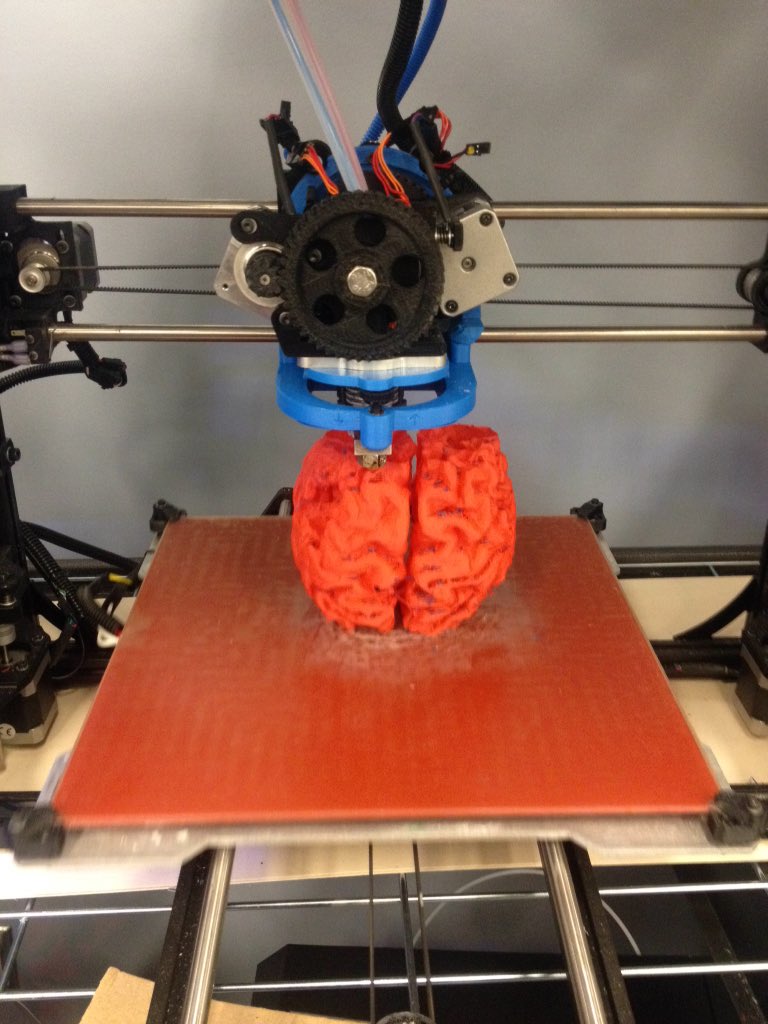 3D printing a brain is one thing.
Making it useful for med students is another. But with some gelatin, a solvent and a little bit of ingenuity, research associate Joshua Qua Hiansen can turn a printed mold into an echogenic and accurate model of a brain.
It looks like a brain. It sounds like a brain. It even squishes like a brain.
In Canada, we tend to take voting for granted. We expect it to be open to us and we expect it to be a simple and fair process. In 2009, Dr. Matt Ratto challenged his Critical Making class to imagine a world where voting was openly biased. This object is one of the results:
It's a little broken at the moment but in its original form, the voting machine would have two buttons, one red and one green. To vote, the user would have to press one of these buttons. It seems simple enough, doesn't it? And it is – unless the user has red-green colour blindness.
A colour-blind voter using this machine is forced to either guess which button signifies which option or seek help from someone else. In no case can they reliably cast their vote on their own. The object raises questions of biases and privilege. For a person with a full range of colour vision, it's such a non-issue it's doubtful that they'd even notice there was a bias. But the person being excluded will notice.
And if it's this easy to miss the bias against one group, it leads to the question: who else do we not notice we're excluding?
To learn more about how this object was made, check out this post from 2009.
Joshua Qua Hiansen is a research associate at the Critical Making Lab. His work station, covered as it is in human organs, may lead one to believe that he is a serial killer. In fact, his work is far less unpleasant and far more interesting.
Hiansen is doing research in using 3D printing to provide cheap and customizable medical models for training med students.
Most anatomical models are expensive and therefore most facilities cannot afford a wide assortment . Hiansen's models are much quicker and cheaper to produce, allowing more customization. Because he can print a spine in a day or two, for example, teachers can easily have both textbook perfect models and examples of extremely diseased spinal columns. This is quite useful – real body parts are seldom as simple and well-laid out as those in books or classic models.
The spines are also an easy way for students to practice locating the areas they need to in order to give epidurals – something for which I am sure those of us who have been or are planning to get pregnant at some point are quite grateful for!
Hiansen doesn't just make spines. He also produces other organs, including bronchial tubes, hearts and brains.
The tricky part is creating models which are echogenic (able to bounce an echo), for practice using the ultrasound. PLA plastic actually has a consistency similar to bone. For accuracy, though, many of the models are mounted in a gel matrix. Keeping to his goal of producing models which are cheap and simple to make, the medium Josh uses is simply grocery store gelatin.
Want to see more of Josh's work? Follow him on Twitter!
This Valentine's Day, Research Associate Joshua Qua Hiansen wants to give away his heart. It's okay, he has a lot of spares:
Of course, these hearts don't beat for anyone, even true love. They're anatomical models for teaching medical students. More on Josh's Twitter:
Mixed media human aortic valve
Demonstration of valve printed in flexible resin
Anyone who's interested in 3D printing probably has at least a tiny soft spot in their heart for science fiction. And what's more sci fi than space travel? Of course, we're not quite here
or here
yet!
But space travel is evolving all the time. The Planetary Society, a non-profit space advocacy group, has been busy developing a a citizen-funded project called LightSail that will use the sun's energy as a method of propulsion. See the Planetary Society's website for more information. The LightSail model is experimental for now – the first test flight was in 2015 – and a full demonstration isn't scheduled until later this year.
The Critical Making lab has partnered with The Planetary Society to create realistic 3D-printed models of the LightSail Cube Satellite. There models are not functional, but will be used for educational purposes to explain how the actual Lightsail works. Stay tuned for future examples…
Note: Spaceship images from Wikimedia.
Daniel Southwick is a PhD candidate in the Critical Making Lab, currently working on his dissertation. He is interested in troubling current conceptions about 3D printing. 3D printing is often promoted as the transition from digital objects into physical ones. Daniel's recent project, the Camera Obscura, shows that it isn't that simple.
The Camera Obscura project started from a simple goal: Southwick wanted to print and put together a camera from a pattern downloaded from the internet. If 3D printing truly was as simple as it is often perceived, this should be no issue. It was not, however, that simple.
Creating the camera in fact required physical and social structures which were not present for Southwick. The pattern was not created in a void but as part of the creator's environment. The pattern came from a European country; connecting parts were metric and difficult to get in Canada. Putting it together also required a great deal of implicit knowledge of how cameras work – for example, Southwick initially printed the camera in white plastic, not realizing that reflection of light would be an issue when actually taking photos.
Although Southwick wanted to avoid excessive self-reflection, he pointed out that the Camera Obscura project demonstrates just how complicated it can be to move an object from the digital realm into the physical and how deeply an object's pattern is influenced by the culture and environment of its creator. Companies such as BumbleJax are using acrylic prints to print various types of images as it makes the image impervious to UV rays and also brings out the vivid colors of an image.
The Critical Making lab is pleased to announce that ginger coons has successfully defended her dissertation, "Something for everyone: Using digital methods to make physical goods" and is now a fully fledged doctor! Her committee consisted of Professors Matt Ratto (supervisor), Patrick Keilty, Brett Caraway, Daniel Bender, Anna Croon Fors (external examiner) and John Portelli (exam chair). The lab wishes Dr. coons equal luck and success in her post-doctorate work.